Something that's always given me a few laughs and more than a little confusion is a strange hybrid vocabulary that exists here in Italy, that I know of no name for, so I will dub "Italglish" for the moment. Italglish, in my opinion, has at least two distinct categories:

1) Words that sound deceptively like English but aren't, or do exist in English but Italians use them to mean something completely different
2) English words that have been genetically modified to resemble their Italian cousins

Today we'll tackle #1. The fun never ends when you're trying to figure out just what the heck a

smoking

(smohck-eeng) is, and why you would go

footing

(fu-teeng) in it. Actually you wouldn't, unless you were a groom late to your wedding. Here's a smoking:



That's right folks. Who knew? Turns out Jackie Chan made a movie with Jennifer Love Hewitt called The Tuxedo, and this is its Italian cousin. You can all sleep at night now. (By the way, the caption on the bottom says something approximating: "Wear it...and there'll be trouble.")

How about footing? Here you have it: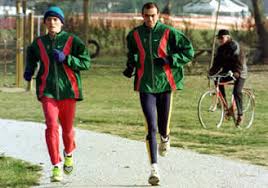 What we might call jogging. (It's the whole "ing" ending that seems to make it all ok.) And you

do

use your foot, uh, feet to do it, so in some way it is close.

What about a

golf

? No, not the game played by Tiger Woods—more like the shirt he wears when he plays!

You can go to a

beauty farm

(day spa) for a

snelling

(weight-loss) treatment. Moo! (Associating cows with weight loss...now that's not a marketing strategy I would recommend.)

Sports are easy because they just take out "ball": volley (voh-lay), basket...

But really, nothing beats the American TV shows imported and Italianized. Like when the Cosby show transforms mysteriously into

I Robinson

(Eee Roh-bean-sohn), aka The Robinson Family, apparently because "Cosby" was just too hard for Italians to pronounce. Or when that 80s classic Diff'rent Strokes becomes known as

Harlem contro Manhattan

(Harlem vs. Manhattan), then in later years just simply

Arnold

. ("Che stai dicendo, Willis?") Or when the Fresh Prince of Bel Air meets his Italian alter ego:

Willy

. I know you're curious...so go ahead, test out your Italian skills with Willy's Bel Air rap in Italian.